New free samples – language labels for la cocina, die Küche or la cuisine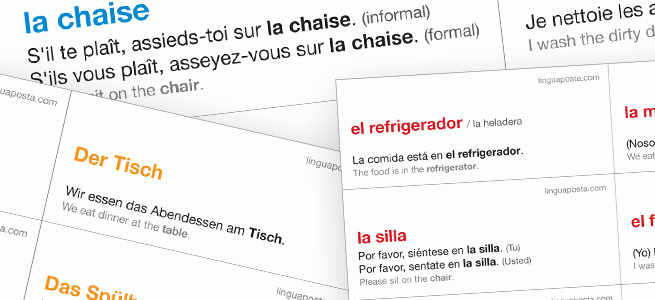 Miki and I are happily launching a brand new linguaposta product today – language labels that you can stick or pin around your house. This is a great way to learn as you are reminded of Spanish, French or German words and phrases as you go about your normal day.
To make these language labels extra special and super useful, we've also added in a handy phrase on each label and a smaller English translation, so that you have to peer a little closer to view the solution.
As these are a new and untested product we are really keen to hear from all our nice visitors about what you think of these language labels.
Are they useful and helpful with your language learning?
Are they a good size and easy to print?
Are the items we've covered in the kitchen a good range of vocabulary?
Drop us a line via our contact page, or leave a comment below. We look forward to hearing from you.

By steve. Jan 17 in News.